David Evans, Rallies Editor, Autosport, 2nd December, 2010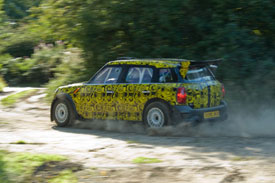 Prodrive's Technical Director, David Lapworth, says the potential lack of a star name in MINI's line-up next year will not be a problem for the team, with the chances of Marcus Gronholm returning having faded.
Double World Champion Gronholm has still not told MINI he will definitely not drive for the team but, as former works Citroen driver Dani Sordo now looks set to join Kris Meeke at MINI, Lapworth is adamant that there will be enough experience in the line-up even without Gronholm.
Lapworth said: "The driver you mention, the one who was in the car earlier this week [Sordo], might be young, but he's got four years of experience in a very good car. I don't think we're missing anything. Working with Marcus Gronholm is great, you put him in the car and he goes flat out. You get very simple feedback from him: 'It does this, it does this and it does this.'
"It's nice to know where you are with the car, but until you asked me whether we would miss a big name driver, I honestly hadn't thought we were missing something at all and I don't think we are – don't forget we still have Markko [Martin] doing some work with us as well."
Lapworth was quick to praise the early work from Meeke, adding: "The feedback we get from Kris is very logical and common sense. Okay, Kris doesn't have massive World Rally Car experience, but he has driven plenty of them. And, anyway, when we're starting from scratch with new technical regulations, you can do without any preconceived ideas about what a World Rally Car should do."
MINI completed a week-long test in Sardinia, with Sordo running for the final two days, one on asphalt and one on gravel. The focus of the team's gravel running was to establish a base suspension set-up with damper supplier Ohlins and to complete the MINI Countryman WRC's first significant mileage on asphalt. The next test is expected to be in the UK shortly before Christmas.
[Source: Autosport]
Latest posts by Clive Goldthorp
(see all)