David Evans, Rallies Editor, Autosport, 24th September, 2010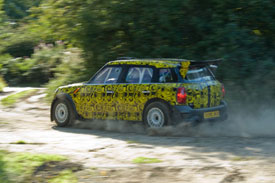 Prodrive's Technical Director, David Lapworth, says the team will be testing the MINI Countryman WRC for one week per month for the rest of the year – with the car's first asphalt outing scheduled for November.
The car ran for the first time in competitive trim in Portugal last week. The team has now returned to Banbury where the data from the test is being analysed before the next stage of development.
"We've planned to test a week each month until Christmas," said Lapworth. "We will be working on the base car, I guess we call it the Super 2000 car if you like.
"Obviously, that's the base car for the World Rally car, we will be able to work on the two cars together because obviously they're both very similar. In the end, we will have to work separately because the WRC will have to be tuned for a different power output and for different aerodynamics."
Lapworth admitted the next tests would be similar to the running completed last week and said: "We're going to test the car through the whole range of conditions, we're not going to be going into using X or Y millimeter roll bars or X or Y front springs – it's not that detailed yet."
Marcus Gronholm is due to tell Prodrive whether he has accepted their offer of a contract for next season in the coming week. Should the Finn sign up, he is likely to begin test work with the MINI straight away. Otherwise, Markko Martin is a likely candidate for the development programme – the Estonian worked with the team, improving the Subaru Impreza WRC, in the Japanese manufacturer's final season in the sport in 2008.
[Source: Autosport]
[Editor's Note: AROnline readers can access the full text of David Evans' interview with Prodrive's David Lapworth via this link.]
Clive claims that his interest in the BMC>MG story dates back to his childhood in the 1960s when the family's garage premises were leased to a tenant with an Austin agency. However, back in the 1920s and 1930s, his grandmother was one of the country's first female Garage Proprietors so cars probably run in his genes! Admits to affairs with Alfa Romeos, but has more recently owned an 06/06 MG TF 135 and then a 15/64 MG3 Style… Clive, who was AROnline's News Editor for nearly four years, stood down from that role in order to devote more time to various Motor Racing projects but still contributes articles on as regular basis as his other commitments permit.
Latest posts by Clive Goldthorp (see all)