David Evans, Rallies Editor, Autosport, 3rd December, 2010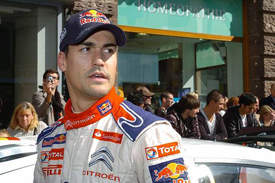 Citroen refugee Dani Sordo is expected to sign for MINI's World Rally Championship squad before the end of the year, this week's AUTOSPORT magazine reveals.
Prodrive confirmed that the Spaniard had taken part in a two-day test with the MINI Countryman WRC in Sardinia this week, but the company's Managing Director, Richard Taylor, denied that any deal had been done. However, AUTOSPORT understands that Sordo will be confirmed imminently to drive alongside Kris Meeke for 2011.
Sordo, who tested for one day on asphalt and one on gravel, said: "I tested the car and that's all for the moment. The car felt good, nice; it's not bad for the start. I remember the [Citroen] DS3 was not at the top when I first started. There is some work needed in every area, but it's early and there is time.
"The Prodrive team is very motivated and David [Lapworth, Prodrive's Technical Director] has a lot of experience. I need to understand the car more, but for the start, it's good."
[Source: Autosport]
Clive claims that his interest in the BMC>MG story dates back to his childhood in the 1960s when the family's garage premises were leased to a tenant with an Austin agency. However, back in the 1920s and 1930s, his grandmother was one of the country's first female Garage Proprietors so cars probably run in his genes! Admits to affairs with Alfa Romeos, but has more recently owned an 06/06 MG TF 135 and then a 15/64 MG3 Style… Clive, who was AROnline's News Editor for nearly four years, stood down from that role in order to devote more time to various Motor Racing projects but still contributes articles on as regular basis as his other commitments permit.
Latest posts by Clive Goldthorp (see all)